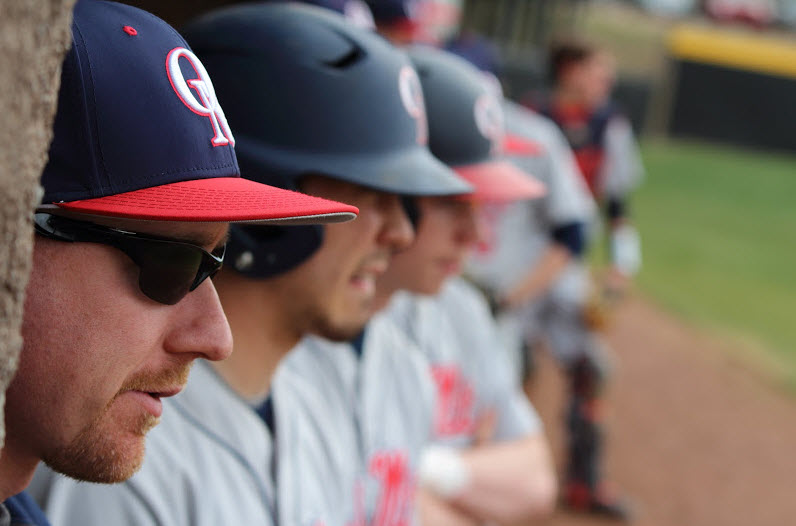 Derek Irons enters his fourth season at the helm of the Eagles baseball program after three seasons in which the Eagles have averaged 30 wins each year. OMHS has reached the playoffs in all three seasons, twice advancing to the quarterfinals. The 2017 and 2018 squads finished the season ranked #2 by the Alabama Sports Writers Association. There have been eight All-State selections from those teams.
Irons took over the Eagle program after a seven year stint as the head coach at Charles Henderson High School. The Trojans captured back to back state championships in 2013 and 2014. Those teams combined for an 18 game playoff win streak. In 2013, the Trojans set the AHSAA record for win percentage for a team with at least 40 wins with a 93% win percentage. The Trojans spent 18 weeks ranked #1 by the ASWA and were in the top ten during the entire seven seasons.
Coach Irons has been chosen Coach of the Year on twelve occasions by outlets such as the National Federation of High School Coaches, the Alabama Sports Writers Association, the Alabama Baseball Coaches Association, and the Fellowship of Christian Athletes. He has a career record of 367-132 (74%) and has also amassed 53 career playoff victories.
Irons was a catcher at Dora High School, then played first base for two years at Bevill State in Fayette. He then obtained his undergraduate and masters' degrees from the University of Alabama before starting his coaching career.
Irons and his wife Leslie have been married for ten years and have three children: Luke who is 9, Alex who is 7, and Kate who is 4. They are members of the Church at Brook Hills. The Irons' co-founded WOD for Water-Troy, an organization that has raised over $500,000 for the sake of clean water globally. They partner with NeverThirst in Birmingham, and you can read more about WOD for Water-Troy at wodforwatertroy.com and NeverThirst at neverthirstwater.org.
Brandon Lee is in his fourth year as assistant coach for Oak Mountain High School Varsity Baseball and is teaching World History. Coach Lee is also the head coach of the Oak Mountain Middle School football team. Coach Lee joins OMHS from Charles Henderson High School in Troy, Alabama. While in Troy, Lee served as the assistant baseball coach under Coach Irons, where they combined for a 113-17 record from 2013-2015, including back-to-back state championships in 2013-2014. In 2014, Lee was selected as the Assistant Coach of the Year in the state of Alabama in all classifications by the Alabama Baseball Coaches Association.
Before CHHS, Lee taught at Cullman High School in Cullman, Alabama, where he was the head softball coach for two years. While at Cullman, Lee led the varsity team to the state playoffs both years. He was also assistant volleyball coach for Cullman.
Lee is a graduate of Cullman High School where he played middle infield for the CHS baseball team, earning one state championship title in 2002. He also played middle infield at Wallace State, Hanceville, earning unprecedented back to back state championships in 2005 and 2006, and trips to the Junior College World Series, finishing 3rd in the nation both years.
After completing WSCC, Lee continued with his education, obtaining a Bachelor's' Degree in Social Science from the University of Alabama.
Coach Lee and his wife, Heather, married in June of 2015 and currently live in Leeds. They welcomed their first child, Sutton Olivia Lee, in September of 2017. Heather is the head softball coach at Chelsea High School, where her team won the 2016 6A State Championship and she was named 6A Coach of the Year by the Alabama Sports Writers Association.
Jason Neeley grew up in Alexander City, where he attended Benjamin Russell High School and graduated in 1993. Coach Neeley played baseball and basketball in high school, and received a baseball scholarship to Central Alabama Community College. He was part of teams that went a combined 82-25 over a 2 year span. After attending CACC, he received a scholarship to play baseball at the University of Montevallo. Neeley was selected to the Gulf South Conference All-Conference team in 1996 as a closer. In 1997 he was selected Academic All-Conference.
Neeley is currently in his 13th year at Oak Mountain. Prior to coaching at the high school level, he was the head baseball coach at Oak Mountain Middle School. Through 9 seasons Coach Neeley compiled a record of 206-84 along with winning 2 conference championships. Neeley also coaches running backs for Oak Mountain Middle School Football.
He along with Renae, his wife of 18 years, reside in the Oak Mountain area. Renae is employed at Oak Mountain Elementary School. Jason and Renae have 3 children; Thomas (15), Cole (12), and Jaycie (9)